Laura to Be Major Hurricane at Landfall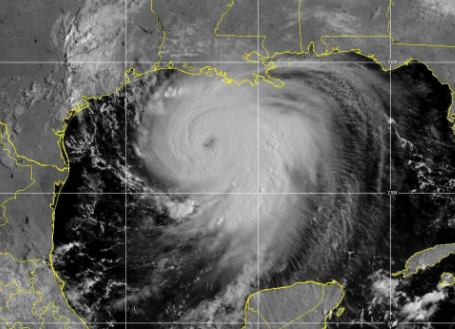 Hurricane Laura went through rapid strengthening overnight and is now a major Category 3 hurricane. As of 10 AM, Laura had maximum sustained winds of 125 mph.
The hurricane is currently sitting about 225 miles south-southeast of Lake Charles, LA. Laura is moving to the northwest at about 16 mph. Additional strengthening is expected today. Laura is forecast to be a Category 4 hurricane at landfall sometime late tonight or early tomorrow morning.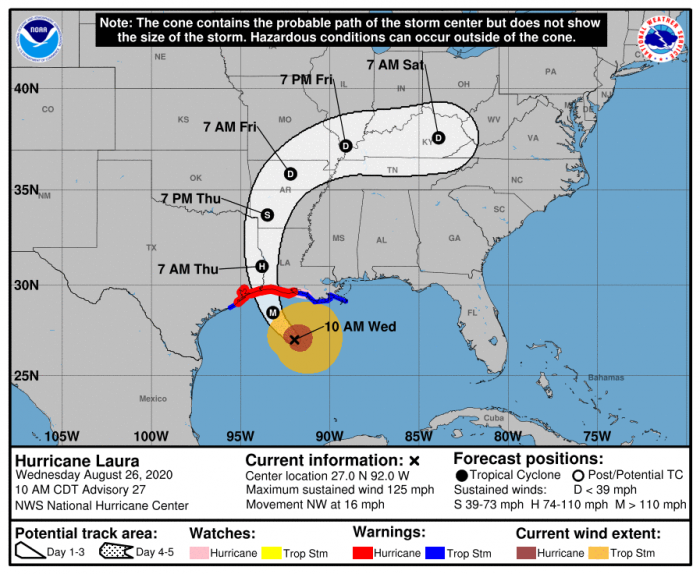 Catastrophic storm surge of 17-20 feet in some places, extreme winds, and flash flooding are all likely along the northwest Gulf Coast tonight.
The NHC warns, "Unsurvivable storm surge with large and destructive waves will cause catastrophic damage from Sea Rim State Park, Texas, to Intracoastal City, Louisiana, including Calcasieu and Sabine Lakes. This storm surge could penetrate up to 30 miles inland from the immediate coastline in southwestern Louisiana and far southeastern Texas."
If you live in this area, you have only a few hours left to protect life and property.
Here's a breakdown of Warnings and Watches in effect:
Storm Surge Warning: Freeport, TX to the mouth of the Mississippi River
Hurricane Warning: San Luis Pass, TX to Intracoastal City, LA
Tropical Storm Warning: Sargent, TX to San Luis Pass, TX and East of Intracoastal City, LA to the mouth of the Mississippi River
Storm Surge Watch: mouth of the Mississippi River to Ocean Springs, MS, Lake Pontchartrain, Lake Maurepas, and Lake Borgne
Hurricane Watch: east of Intracoastal City, LA to west of Morgan City, LA
Follow us on Twitter for the latest updates.