Multi-Day Severe Threat in the Plains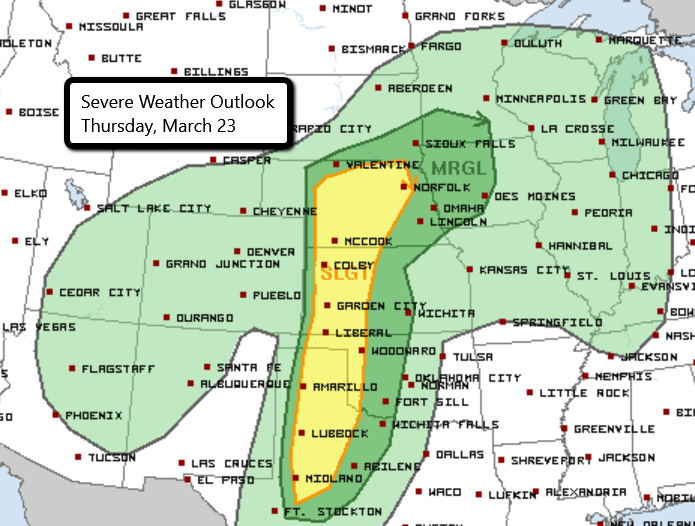 Starting later today, severe thunderstorms will begin rumbling through parts of the Plains. The threat for severe weather will continue into this weekend.
Thursday
Storms will develop late this afternoon and push eastward into the evening hours. Main threats with today's storms are large hail and damaging wind gusts. A tornado or two cannot be ruled out.
Some bigger cities include:
-Amarillo, TX
-Lubbock, TX
-Liberal, KS
-Garden City, KS
-McCook, NE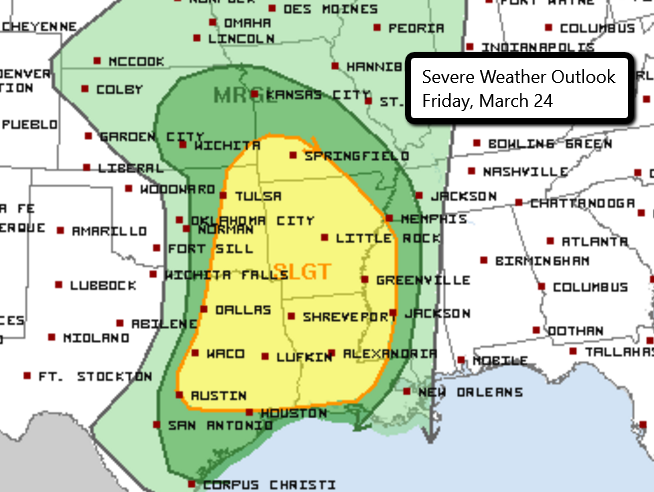 Friday
On Friday, the severe threat shifts towards the east with strong storms possible in parts of the Central/Southern Plains into the lower Mississippi River Valley. Strong winds, large hail, and tornadoes will all be possible with any storms that develop. A damaging wind threat will continue into the overnight hours for parts of the Mississippi Valley.
Some bigger cities in the risk area include:
-Dallas/Ft. Worth, TX
-Baton Rouge, LA
-Little Rock, AR
-Tulsa, OK
Saturday
The severe threat will continue to push towards the east on Saturday with the mid/lower Mississippi River Valley and parts of the Southeast under the risk for severe weather. Once again, strong winds and large hail will be the primary concerns but a tornado or two will also be possible.
Some bigger cities under the Slight Risk include:
-New Orleans, LA
-Jackson, MS
-Birmingham, AL
-Mobile, AL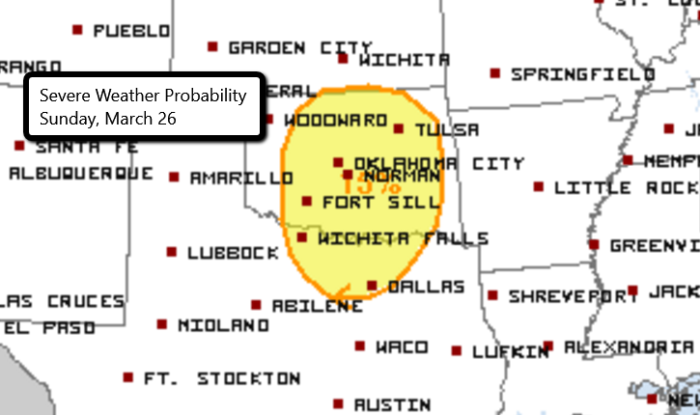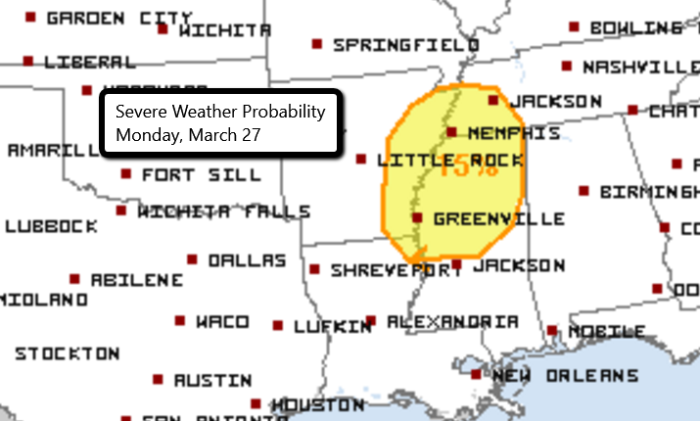 Sunday and Monday
Sunday will feature the return of severe weather to parts of Oklahoma and Texas. At this time, severe storms capable of producing hail and strong winds look possible. The same low pressure system will move eastward on Monday and spread the severe threat into parts of Arkansas, Louisiana, Mississippi, and Tennessee. We will continue to update as we get closer to the end of the weekend.
We will have chasers LIVE in the field streaming here!
Follow us on Twitter for updates.